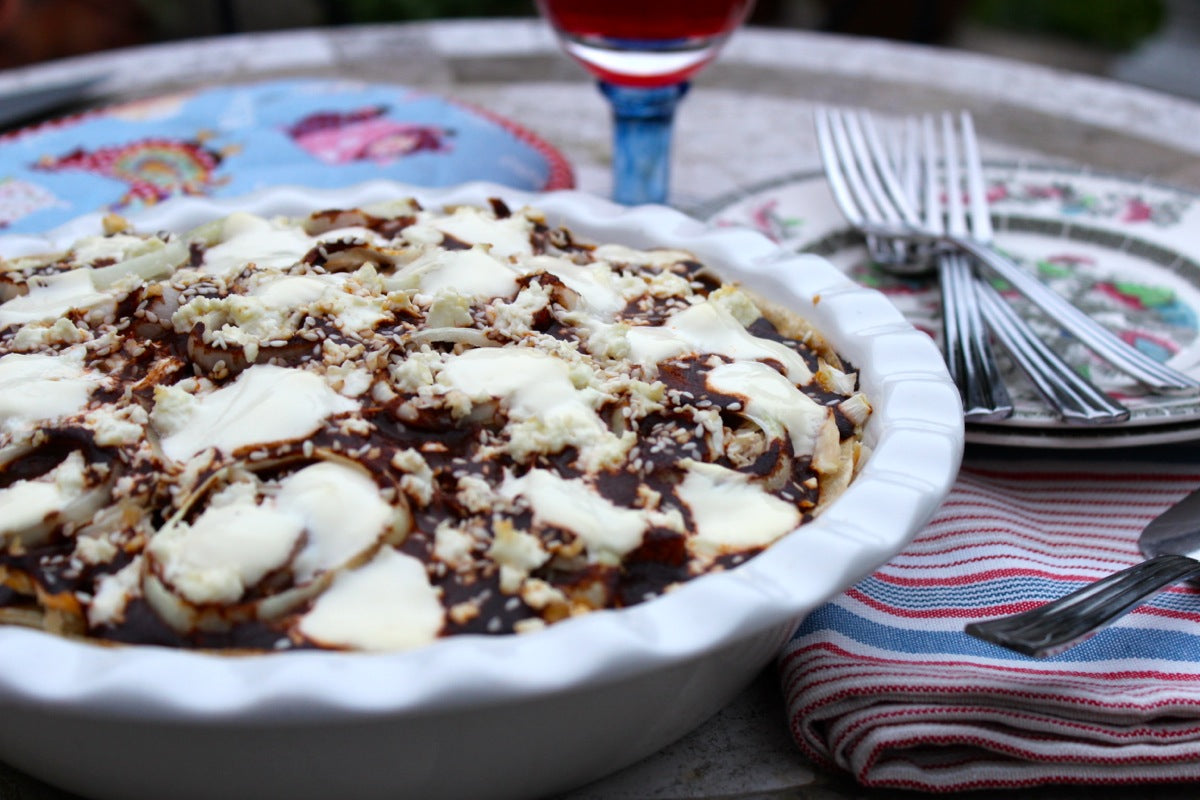 Mexican Mole Pie
I first came across this Mexican dish about 10 years ago. I was visiting my friend Sandra and she offered me a slice of what she called 'Pastel Azteca' (Aztec Cake). Hers was very different, she was using a green tomatillo sauce and heavy cheddar cheese. I was fascinated by the concept and I fell in love with it. I did some research of my own and I came across loads of different version of it: some using red salsa, others with green salsa, some with dried chilies, some with poblano peppers and some with mole. Since I absolutely love Mexican Mole and it is now easily available in Ireland through our shop, I decided to do some experimenting with he recipe using mole flavour for the blog.
I had to do this four times; the first few times I did it, the flavour was perfect (no surprise there as mole and chicken is kind of a classic combination), but the texture was all wrong; first too soggy, then too dry. I was also using a lasagne dish, which is rectangular, but was making my layers with round corn tortillas, which made the whole thing more complicated than it should be; I was also cooking the tortillas in oil before placing them in the dish, which added unnecessary moisture. Eventually, I got it right. I switched to a pie dish, changed the way I was using the tortillas (Thanks to Sandra who suggested it) and I experimented with the ingredients a bit. I was left with the perfect Mole Pie, not exactly what we would called Aztec Cake, but just as delicious, and having experimented with it quite a few times, I feel this is really a pie as suppose to a cake. In any case, hope you enjoy it as much as we did!
Note: I found that this pie is best eating on the day you cook it. You can prepare it a day in advance, but don't cook it until you're ready to eat it. I reheated leftovers in the microwave and the tortillas went too crispy and rubbery for my liking. If you make the pie in advance, cover it with clean film and refrigerate it overnight, but make sure to bring it to room temperature before you put it in the oven, or adjust your cooking times accordingly. There's nothing worse than a dish which is hot in the outside and cold in the middle. Since I wanted this recipe to be a quick dinner choice, I used the ready made mole sauce we sell in the shop, but you can make the mole sauce from scratch if you wish, this is entirely your choice.
Ingredients:
3 chicken breast, about 500 grams
1 garlic clove, peeled
1 fresh bay leaf, whole
Water
Salt to taste
540 grams Mexican Mole Sauce
15 Corn Tortillas
60 grams onion, thickly sliced
110 grams Feta Cheese
1 Tablespoon Sesame seeds
1 cup Glenisk Greek Style Yogurt
Equipment:
22 cm pie dish
Non-stick pan
I used the Glenisk Greek Style Yogurt as it has the perfect consistency and flavour
Amount it feeds: 
4 - 6 people
Step 1
Put the chicken breasts in a pot with the garlic and bay leaf and cover with water. Turn on the heat and bring everything to the boil. Lower the heat and let it simmer for about 20 minutes or until the chicken is fully cooked. When the chicken is ready, take it out of the water and shred it into a bowl. TIP: you can make this recipe with leftover chicken from your Sunday roast, just shred it and skip this step!
Step 2
Heat the tortillas in a dry, non-stick pan at medium to high heat. You want the tortillas flexible, so heat them for about 30 seconds on each side and wrap them in a thick tea towel to keep them warm.
Step 3
Heat the oven at 180° Celsius and bring all the ingredients near the pie dish. This will make the assembling of the pie much easier. I recommend you pour the mole sauce into a jug, and have all the ingredients handy.
Step 4
We can start assembling the pie. Pour some of the mole sauce, about 4 tablespoons, on the bottom of your pie dish.
Step 5
Take four warm corn tortillas and place them directly on top of the sauce in a fan-like formation, overlapping each of the tortillas a bit. See the pictures here to show you how.
Step 6
Top the tortillas with a layer of shredded chicken, then add some onions.
Step 7
Drizzle a generous amount of mole sauce over the chicken and onion layer. Remember to be generous but not to use all the mole in one single layer. As a rule of thumb, I use a third of the mix in each layer.
Step 8
Crumble some feta cheese on top of the mole and follow with a sprinkle of sesame seeds. Crown it all up with a few dollops of yoghurt.
Step 9
Make two more layers by repeating steps 5 to 8 twice. to make two more layers; make sure to gently press the layer of corn tortillas every time as this will compact the pie layer beneath and make a bit more room in the dish for the next layer. If you are making this a day in advance, this is the time to cover it with clean film and refrigerate it until you are ready to cook it. Check this slide show in my YouTube Channel that shows you how I made mine.
Step 10
Place your pie in a preheated oven for 20 to 25 minutes uncovered.
Your Mexican Mole Pie is ready! Serve it hot with a salad and a side of the refried beans. It's absolutely gorgeous!
---