Classes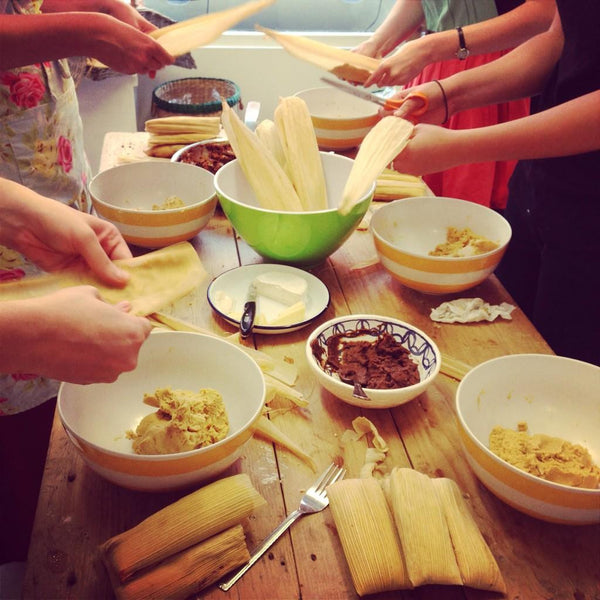 Our cooking classes are very popular. It's all about learning in a relaxed and friendly environment, in a small group, with people that have one thing in common: a love for Mexican food. 
You come in for an evening, we demo some deliciously authentic Mexican food, you cook some with us, then we all sit down and have a feast with it. It's a cunning plan, you know? We want you to fall in love with the food so much, that you'll end up coming back to buy our ingredients! It's simple and honest.
We have juice and water on tap, but we don't mind if you want to bring a couple of beers or a bottle of wine for the sit-down-meal end of things. 
For one evening our gorgeous shop transforms itself into an intimate cooking venue where we exchange stories, cook together and share a meal; pretty much the whole Mexican kitchen experience.
Join us for one of our workshops and experience a true Mexican welcome! 
Disclaimer: we keep our classes very small and reasonably priced, and while we know life does happen, we have to have a cancellation policy, so make sure you read it here: You'll get a full refund if you cancel with at least 2 weeks notice. If you cancel with less than 2 weeks, but between 14 and 2 days before the class, you'll be entitled to 50% refund of the class fee. If you cancel within 48 hours from the class, we have sadly bought all the ingredients with  your attendance in mind, so no refund will be provided, however, you will be able to transfer your seat to someone you want. Just let us know so we can sort out dietary restrictions! 
Picado Mexican Kitchen handles wheat / gluten, sesame seeds and nuts on a regular basis, so bear that in mind when booking.