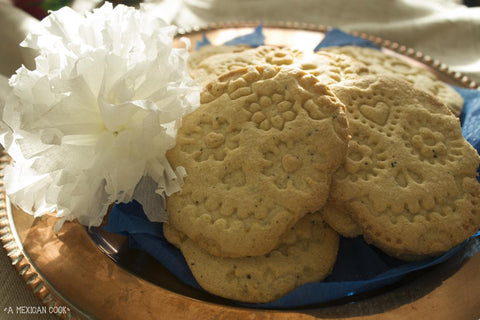 Spooky Blue Masa & Coffee Cookies
Ingredients
250 g Blue Masa-Harina
3 tsp Coarsely ground coffee
1 tsp ground cinnamon
1/2 tsp baking powder
1/4 tsp salt
120 g butter, room temperature
1 large egg
1 tsp Vanilla extract


Directions
Mix all the dry ingredients in a bowl and set aside. Cream butter and sugar in the stand up mixer and add egg and vanilla extract. Whisk until incorporated. Add the dried ingredients and beat until the mixture resembles wet bread crumbs. Knee the dough with your hands until you have a smooth ball. Wrap in cling film and refrigerate for 30 minutes. 
Pre-heat the oven at 180 Celsius. Take the dough out of the fridge and cut it into two parts. Take one part and roll it to about 2 inches in thickness. Use your favourite cookie cutter to cut the shapes (I use a day of the dead sugar skull one with a stamp). 
Lay the cookies in a non-stick baking tray and  bake for 11-12 minutes. When they come out, they're still super soft and fragile, so let them cool for 5 minutes before carefully removing them unto a cooling rack. 
Enjoy this gluten free treat with a nice cup of tea. 
---