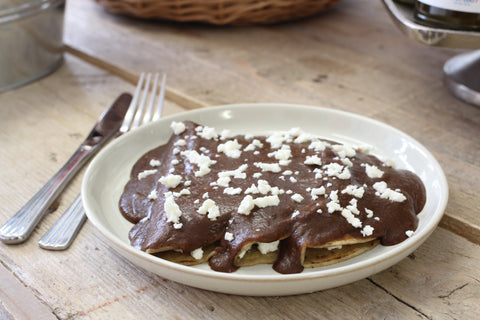 Enfrijoladas
The recipe here for Enfriojoladas (or a sort of bean flavoured enchilada) is the result of me finding a bag of frozen black beans in my freezer, which were crying to be eaten. I would have normally made some spicy refried beans, I felt I needed to give them a little more love, so ended up tweaking an old recipe and making them into a sauce for Enfrijoladas. I loved how they turned out. The taste is subtle, but flavoursome and although it is a classic vegetarian dish, I used a tiny bit of Old Farm's fabulous pork lard to heat them on. If you want this fully vegetarian, substitute the lard for olive oil and double the quantity. I hope you enjoy them as much as I did!
Ingredients

560 grams Whole Black Beans, cooked
80 grams Onion, sliced
10 grams Dried Pasilla Chili
2 Garlic cloves, 8 grams
1 cup Water
1 small Chipotle in Adobo Chili
1/4 Teaspoon dried Mexican Oregano
Salt to taste
For The Enchiladas:
12 Corn Tortillas, 6 inch
Sunflower oil for frying
250 grams Feta Cheese, crumbled

Directions
Heat a heavy dried pan. Clean the Pasilla chilies by removing the stem and seeds. Do not worry if the chili breaks, it will work any way. Place the clean pasilla chilies and the garlic cloves on the hot pan and toast them for a few minutes. Make sure to turn the chilies every few seconds to avoid burning them. Once you start smelling the chilies, take them out and let the garlic cloves char a bit. This should not take you more than 5 minutes.
Heat the lard/oil in a large non-stick pan to medium heat. Add the onions and fry them for a couple of minutes before adding the garlic and the toasted pasilla chiles torn. Cook everything for about 5 minutes or until the onions soften and they are brown. Remove the pan from the heat and set aside.
Put the beans, water, the contents of the pan, the chipotle, the oregano and salt into the blender and blitz until completely smooth.
Pour the bean sauce back into the pan where you fried the onions and turn the heat on. Cook the beans until they are heated through. Don't cook them too long or they will thick too much.
Put some oil in a small non-stick pan and heat the tortillas lightly in it, about 30 seconds on each side. Transfer to a warm plate. Take a generous spoonful of cheese and place it on the top half of the tortilla. Fold it carefully and repeat until you have all the tortillas filled and folded.
Cover the cheese filled tacos with a generous amount of the warm bean sauce, sprinkle with some cheese and enjoy!
---