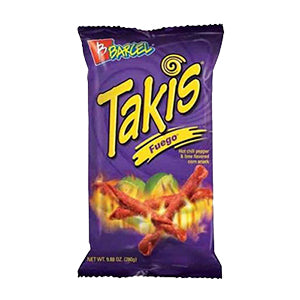 Takis Fuego Minis
If you are a fan of Takis Fuego, you are going to loooove these new presentation! Imagine being able to carrying a pocket size bag of Takis Fuego anywhere for when the crazy munchies arrive?! - This little bags have an uber cute mini version of the regular size takis fuego and we are in love at their cuteness! 
Takis Fuego are corn snack shaped like a rolled taco with tons of lime and chilli, they're absolutely bonkers but delicious! - a bit of a warning here: these are spicy! 
Detail: Takis Fuego, Barcel, 35g
Care: keep in a cool, dry place.