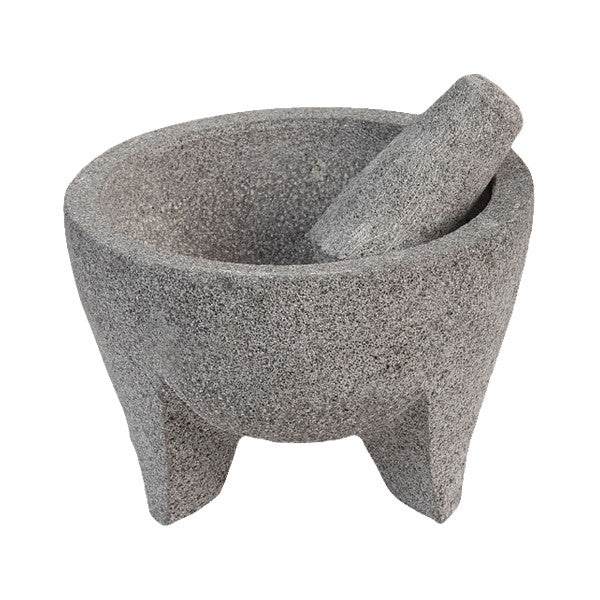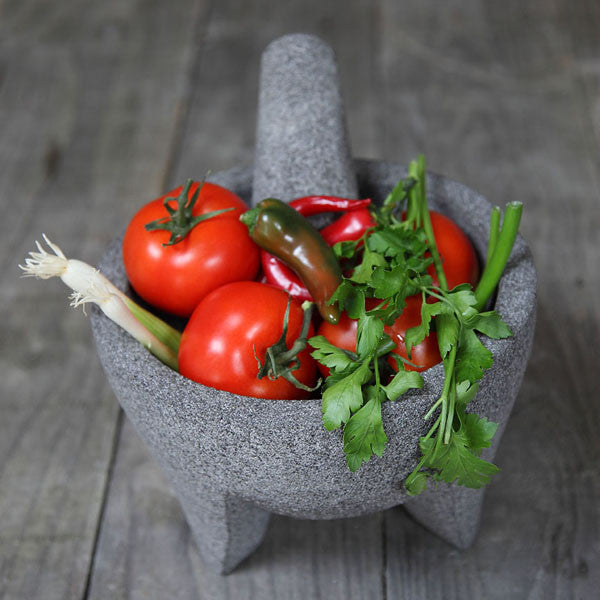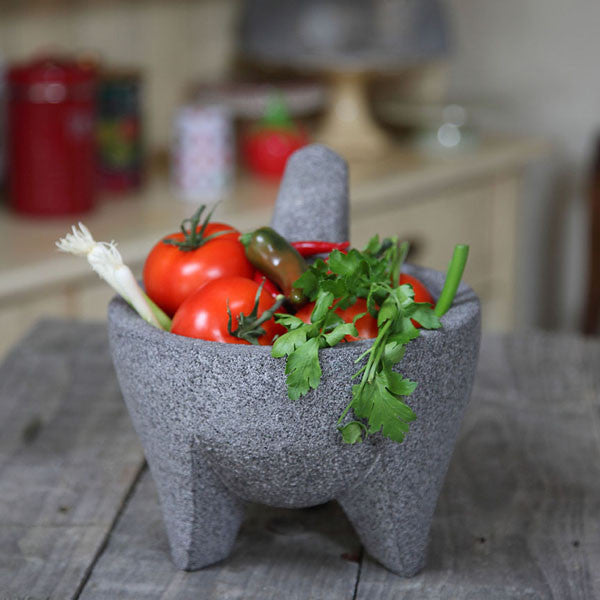 Molcajete
A Molcajete is an ancient kitchen utensil used in Mexican kitchens since Aztecs times. Molcajetes are traditionally made by hand, chiseled out of lava-stone. They have been used in authentic Mexican cooking to grind chilies, spices and to make delicious salsas, guacamoles and adobos. - PLEASE NOTE THESE ARE INDIVIDUALLY CRAFTED PIECES, NOT ONE IS THE SAME - They are also not dainty, they're a serious piece of kit so although we're not able to put a specific seize of dimension on them, they tend to be roughly around 20 to 25 cm wide and they are heavy.  Photo for illustration purposes only. 
A Molcajete is similar to a pestle and mortar, but made of very lasting, heavy lava-stone that gives a special texture and flavour to your Mexican cooking. 
This molcajetes are very, very heavy but practical. Salsas made in these taste way better than in the blender. It's a once off purchase as they are so durable they last a life-time. It is tradition in many families to gift one as a wedding present to a daughter or granddaughter. Mother has hers for 53 years and it's still going! It has survived 10 house moves and a couple of falls. Sometimes if they are dropped from a height, they might chip, but you need excessive force to do any damage. 
It's very important that you cure or season your Molcajete before you use it the very first time. It's a bit of a job, but it only has to be done once in the lifetime of the molcajete. See the care instructions below to learn how to do it.
Detail: Molcajete, made in Mexico, Mexican Craft
Care: Once cured or seasoned, you can wash it with soapy, warm water after every use. To cure or season your molcajete, follow these steps:
1.- Grab a fistful of rice and grind it in the molcajete making sure you go all the way around the inside of it. Throw away the rice and rinse the molcajete with plenty of water to get rid of any little stones that might have come loose.
2.- Repeat step 1 two more times or until no more stones come loose.
3.- Grab a fistful of two of your favourite hard spices, such as pepper corns and coriander seeds or cardamon. Grind them in the molcajete again making sure that you go around the whole of the inside of the molcajete, sides and all. Wash it with soapy warm water and dry it.
4.- Repeat step 3 once.
5.- Grab a few garlic cloves and some dry oregano or chili flakes and grind them in the molcajete. Make sure you go around the sides too. Wash it with plenty of soapy warm water and dry it.
That's it, by now the porous surface of the molcajete should be covered enough. The seasoning/curing is done. Enjoy the molcajete forever without having to cure it ever again!