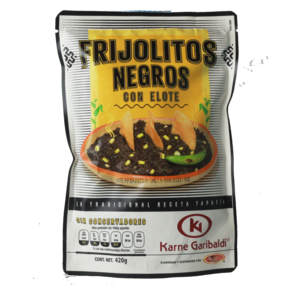 Black Beans with Corn
Ok, when my lovely friend Maria and I were chatting about refried beans, she mention these beans with elote from her native Guadalajara, she couldn't believe I've never had them and went on and on as to how I was missing out. The next time she went home, she came back with a packet of these.  I was hooked! They are surprisingly delicious! The beans are refried and the corn gives them a great texture. Mexican white corn is tender, but more al dente than the usual sweet corn you find in Ireland. It's also savoury, so the flavour is quite different to any corn you've had. Trust me, you gotta taste them!
Detail:  Refried Black Beans with Corn, Garibaldi, 420 grams
Care: open the pouch, transfer contents to a bowl and heat. Refrigerate after opening.